News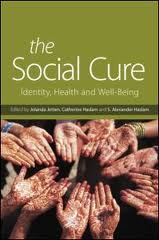 In July 2010 The Social Cure, edited by Jolanda Jetten, Catherine Haslam and Alex Haslam was published by Psychology Press. The book provides an analysis of the contribution of group memberships and associated social identities to health and well-being. The chapters cover a diverse array of topics and are written by experts in different branches of psychology (e.g., social, organizational, clinical, neuro) as well as cognate disciplines (gerontology, epidemiology, economics).
Reviewing the book, Robert Putnam, Professor of Public Policy at Harvard, commented: "The Social Cure provides an impressive and diverse array of empirical evidence showing how pervasive these effects are. The incisive conclusion is packed with insights into the implications of this research for researchers, practitioners, and policymakers in many fields. Let's hope that these lessons are widely heeded."
You can find out more, and also purchase the book at a reduced rate, here.
Latest News
Consensus statement about the BBC Prison Study and the Stanford Prison Experiment
Response to new revelations about the Stanford Prison Experiment
New paper in Annual Review of Law and Social Science
Review paper examines new perspectives on Milgram paradigm
Screening of Shock Room at LSE
New publication on the ethics of prison studies
View Archive
Receive latest news via RSS